North Carolina is national leader and a model for other states when it comes to mapping the floodplain and providing citizens of the Tar Heel state information about their flood risk.
After Hurricane Floyd devastated the state in 1999, North Carolina petitioned the Federal Emergency Management Agency to take greater responsibility for floodplain maps and the North Carolina Floodplain Mapping Program (NCFMP) was established. This Flood Risk Information System (FRIS) houses "digitally accessible flood hazard data, models, maps, risk assessments and reports … also provides geospatial base map data, imagery, LiDAR data, along with hydraulic and hydrologic models…" North Carolinians can find out their flood risk more accurately than just about anyone else in the country (NC is also working with the states of Alabama and Florida to develop their own mapping).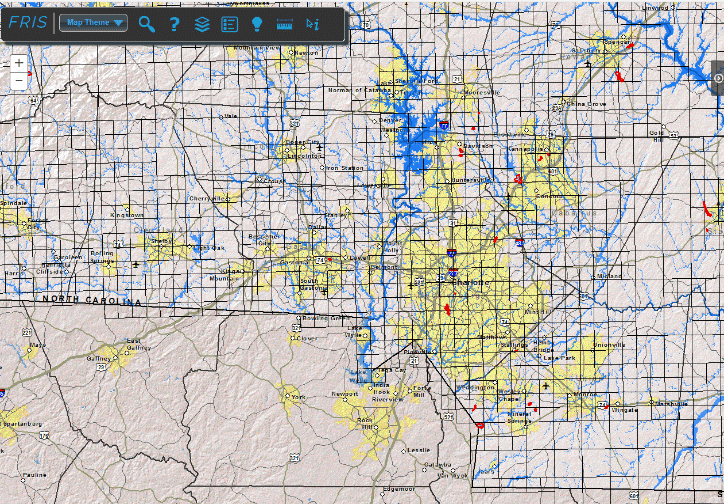 Citizens can search by address or by county and obtain detailed information including digital maps, flood zones, source of flood risk, estimated cost of flood insurance, information about map changes, and the Flood Insurance Reports that document the information. Here's a copy of a Flood Insurance Report for Mecklenburg County.
In addition, North Carolina has created the Flood Inundation Mapping and Alert Network (FIMAN). Flood risk is traditionally communicated by probable risk of flooding in a certain area on a map. For example, the 100-year floodplain is an area that has a one percent risk flooding in any given year, the 500-year floodplain has a 0.2 percent risk, etc. FIMAN provides the public with up-to-date actual data of flood information.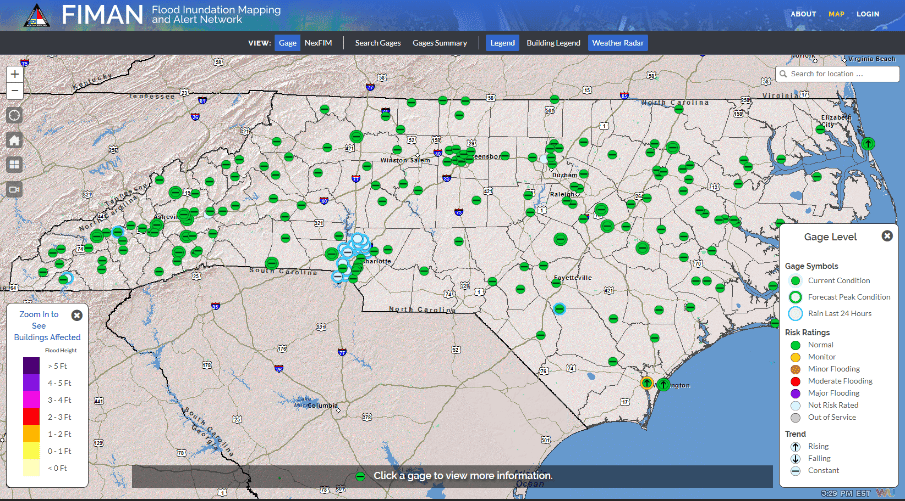 FIMAN links together U.S. Geological Survey and state stream/rainfall gages. Readings from more than 550 gages are updated every 15-30 minutes providing valuable – possibly life-saving – updates on flood situations in various rivers and river basins. FIMAN assigns general flood conditions and documents trends (e.g. increased flood condition) as well as determines inundation mapping (extent of flooding). This information is applied to determine affected buildings and estimated damage. Besides being available to the public at large, maps from FIMAN modeling of future flood inundation were used by the media to educate the public during the flooding events from Matthew and storms in the spring of 2017.
There are limitations on the FIMAN system, most notably that data is limited by the number of gages and distance between gages. But along with North Carolina's advanced floodplain mapping, FIMAN is a tool that needs to be replicated across the country to better inform the public about flood risks.