All the noise swirling around the 2016 elections has helped obscure a real life disaster. Hurricane Matthew diminished and left the East Coast last Sunday, but North Carolina will still be feeling the storm's direct impacts for another week or more. Communities are not able to pick up and rebuild because eastern North Carolina's creeks, streams, and rivers are still backed up with rain from Hurricane Matthew. Even after the water recedes, efforts to recover will be hampered because so many of these towns and people were unprepared for disaster.
The Neuse River in Kinston, NC, is projected to crest on October 14 at 29 feet and will remain above the previous record high of 27.7 feet until Sunday. Flood stage is 14 feet, and the river will likely remain above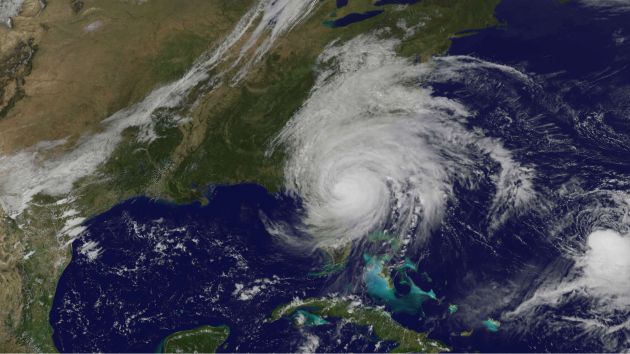 that level for another week or more. According to the U.S. Census Bureau, more than 21,000 people reside in Kinston with more than 10,000 housing units in town. According to FEMA, there are only 276 active flood insurance policies in Kinston. North Carolina as a whole has nearly 4.5 million housing units but less than 129,000 active flood insurance policies, which is actually a 7.5 percent reduction – or more than 10,000 fewer policies – than just three years ago. Obviously flood risk varies throughout the state, but as towns in the Northern Colorado region found out in 2013, flooding can happen just about anywhere, and it can take years to recover.
A homeowner without flood insurance has very limited options to rebuild. The standard homeowner insurance policy doesn't cover floods, and disaster assistance for individuals often only amounts to a few thousand dollars. The Small Business Administration makes low-interest loans available, but that often means paying back another loan on top of a mortgage. Tragically, disasters disproportionately affect the poor who are least able to withstand even a temporary setback from a flood. Vulnerable communities are often located in low-lying areas prone to flooding and have lower levels of flood protection, flood insurance may seem unaffordable, and post-disaster, their means of transportation to work or even the workplace itself may be destroyed. Putting it all in perspective: Kinston, NC, has a poverty rate of 32 percent and a median household income of $28,600.
The federal share of disasters spending has grown dramatically, from less than 30 percent after Hurricane Hugo in 1989, to 75 percent after Superstorm Sandy. People see large amounts of federal dollars being doled out post-disaster, but almost all of that money is used to rebuild public infrastructure like roads and bridges, not people's homes. This isn't working. There has to be greater levels of responsibility and accountability, at every level–from the individual, to the city or town, to the state, and to the federal government.
We must do a better job of informing people of the risks they face and enabling them to prepare for those risks. The country must reform the incentives and disincentives for community disaster preparedness. For example, disaster assistance should be provided on a sliding scale contingent on the level of preparation at the state and local level. States and localities should be required to pursue private insurance for public infrastructure, if available, before becoming eligible for federal aid. Means-tested premium assistance should be available for homeowners and renters, but flood insurance rates must be more in line with actual risks. The federal government should promote the development of a private flood insurance market similar to what exists in much of the world by removing barriers to access and giving regulatory authority to the state insurance commissioners. Most importantly, government must put an emphasis – both pre- and post-disaster- on reducing risk and mitigating the risk of future disasters. We can't afford policies that mask the true level of risk faced by communities or force them to rebuild only to a level of protection that just failed them. The best way to reduce flood insurance rates and future disaster costs is to reduce community and homeowners risk.
When Congress returns after the elections, you can be sure there will be an effort to pass emergency legislation to send additional funds not just to states and communities affected by Hurricane Matthew but also to Louisiana, Texas, and West Virginia where earlier flooding events occurred. Some money is already going to those states. But instead of writing big checks after every disaster, federal assistance should be dispensed over time in a deliberate, effective manner. Four years later, much of the Sandy funding has yet to be spent. That's not necessarily a bad thing as long as it is spent wisely. But that also means Congress can take its time to get it right, conduct routine oversight to track the funds, and use the spending experience to inform future disaster response.
The floodwaters in Kinston and elsewhere will recede, but we can't allow the devastation to recede from the public's eye. There will be more disasters. Moving on from this disaster without reforming our federal disaster response is fiscally reckless and physically dangerous.