View/Download this article in PDF format.
In 2008, Medicine Bow Fuel & Power LLC applied for a $1.7 billion loan guarantee to build a "coal-based power generation and industrial gasification" plant in Medicine Bow, Wyoming. The proposed coal-to-liquid (CTL) plant aims to produce 11,600 barrels of liquid coal per day by processing approximately 10,000 tons of coal into liquid fuel. , Though the project was first announced as early as 2004 and initially had an expected completion date of 2010, preliminary construction only began in November of 2010. Full plant construction is now scheduled to begin as early as 2013.
The loan guarantee would come from the Department of Energy (DOE) Title XVII Loan Guarantee Program. Passed as part of the Energy Policy Act of 2005 (EPAct), the Loan Guarantee Program poses serious risks for taxpayers including underestimated program costs and unreasonable default risks. With currently more than $34 billion in loan guarantee authority available, taxpayers have a considerable stake in the successes or defaults of the projects involved.
Now estimated at up to $2 billion, the plant in Medicine Bow plans to use carbon capture and sequestration (CCS) technology to qualify for the loan guarantee program. The process—capture the carbon emissions (pollution) and pump them deep into geological formations underground or use them for enhanced oil extraction—is a costly and risky prospect. The project has requested a federally backed loan guarantee for as much as 80% of the cost of the plant. This loan guarantee, if approved, could put nearly $2 billion taxpayer dollars at risk for an expensive, unproven technology.
Financing for Medicine Bow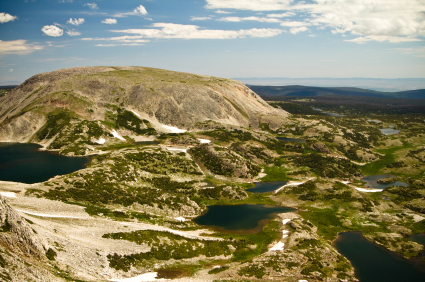 Today, the Medicine Bow plant is awaiting a verdict on whether they have been approved for a loan guarantee through the Department of Energy's (DOE) Title XVII loan guarantee program. Despite the fact that over the years DKRW* has signed contracts to sell the plant's products as well as signed license agreements for specialized technologies, the Medicine Bow plant is in its eighth year of delay. Initially, the plant was supposed to begin construction in 2007 and be online in 2010. Then, in their 2007 industrial siting permit application, Medicine Bow Fuel & Power LLC said construction would not begin until 2008, with completion by 2012. Since then, the project has experienced multiple delays, with an expected completion date now of 2016.
The CTL facility plans to convert coal into a variety of products, including liquid fuels (like diesel and gasoline), electricity, steam, off-gas, slag, and various chemicals. The CTL plant and a coal-handling facility will be located about 13 miles southwest of Medicine Bow, Wyoming, at the mouth of the Saddleback Hills mine. The plant first received its industrial siting permit in December of 2007. The permit was extended since its initial issuance and preliminary construction began in November 2010.
Throughout the project, the company has repeatedly said it does not need government financing:
In 2006, Bethany Haley of DKRW Advanced Fuels said, "We don't know of any coal-to-liquids plant [sic] in the U.S. being built without government help…We plan to finance our projects. It would help if the government would contribute, but we plan to go ahead even if they don't."
In 2008, Robert Kelly, chairman of the project, said that the Medicine Bow plant did not need government subsidies to move forward. "Let the market do the talking," Kelly said in an interview. "If we can't [build the plant without government support] we can't. If we can, we can." In another interview the same year, John Doyle, CEO of DKRW Advanced Fuels, went so far as to specifically say Medicine Bow did not need loan guarantees or tax credits: "Our project [in Medicine Bow], given current law and legislation, doesn't really require specific assistance from the federal government. We don't need investment tax credits or loan guarantees."
In fact, the Medicine Bow project has unsuccessfully sought government support throughout its history:
In 2004, Medicine Bow Fuel & Power LLC applied for $200 million dollars through the Clean Coal Power Initiative. The initiative provides "government co-financing for new coal technologies that can help utilities cut sulfur, nitrogen and mercury pollutants from power plants." The plant was considered in the initiative's second round but was ultimately rejected.
In 2006, the plant got Congressional support when a Wyoming Congressional delegation, including Senator Craig Thomas, Senator Mike Enzi, and Representative Barbara Cubin, sent a letter to then Treasury Secretary Hank Paulson. Their letter asked for $350 million in new investment tax credits to help build the plant.
In 2008, Medicine Bow Fuel & Power LLC applied for a loan under the $8 billion in loan guarantee authority Congress provided for "coal-based power generation, gasification, and carbon sequestration." After holding a public comment period in November and December of 2009, the DOE began preparing a Draft Environmental Impact Statement. The DOE said they would work to expedite the application process, but have so far not released a draft, the first major step towards receiving a loan guarantee.
In late 2011, DKRW Advanced Fuels applied to the Wyoming Business Council for what would essentially be a $300 million loan in the form of industrial development bonds for the Medicine Bow CTL plant. In response to this request, the Wyoming Business Council ordered a formal review of the proposed plant by the Idaho National Laboratory. Separately, the company also submitted a request to the statefor $245 million in tax-exempt bonds which requires, among several signatures, the approval of Carbon County. On January 17th 2012, the Carbon County Commission voted to support the issuance of both the $245 million in tax-exempt bonds and $300 in industrial development bonds. However, in early February 2012, DKRW decided to trim back their request for industrial development bonds to $100 million —a move that would allow the request to bypass approval by the Wyoming state legislature.
DKRW's request for $100 million in state industrial development bonds and $245 million in tax-exempt bonds is still pending. The Wyoming Business Council says it is waiting for the final results of the Idaho National Lab review before making a decision as to whether to support the plant. In order to receive final approval, the State Treasurer and Governor must also sign off on the bonds as well. DKRW Executive Chairman Robert Kelley has said the company will also seek out additional private sector financing, with no mention of whether the company will continue to pursue the $1.7 billion federal loan guarantee.
Most recently, on August 31st 2012, DKRW announced it signed a construction contract with Sinopec Engineering Group, a Chinese state-owned oil and gas company. Securing a construction contract may improve DKRW's financial standing and could put the company in a position to get approved for public financing such as the federal loan guarantee.
Tax Subsidies
Medicine Bow Fuel & Power LLC could also benefit from CTL liquid fuel subsidies. Currently there are two perennially renewed liquid coal tax credits available. First, the Alternative Fuels Tax Credit provides a 50 cents/gallon tax break for all CTL fuel produced. Second, the Alternative Fuel Mixture Credit provides an additional 50 cent/gallon tax break for all CTL fuel that is blended with at least 0.1% of another fuel, such as diesel or jet fuel. If the Medicine Bow CTL plant produces 11,600 barrels per day as publicized and assuming there are 42 gallons of liquid coal per barrel, Medicine Bow Fuel & Power LLC could receive more than $175 million per year.
In addition to tax breaks for producing liquid coal, there are tax breaks for property used to refine liquid fuels. Created in the Energy Policy Act of 2005, the 'Election to Expense 50 percent of Qualified Property Used to Refine Liquid Fuels' credit allows companies to deduct 50% of the cost of qualified property used for processing liquids fuels such as liquid coal.
While these three tax breaks expired in December 2011, they are not off the books yet. The alternative fuels and alternative fuel mixture tax credits have been extended in recent years and Congress could continue this trend, along with the credit for liquid fuels property, when they act on tax legislation later this year.
Tax breaks are also available for the implementation of CCS—the technology that the Medicine Bow facility will use to try and contain its carbon emissions. Currently, DKRW plans to capture up to 92% of all carbon emissions to be sent by pipeline over 100 miles away and used in enhanced oil recovery (EOR) processes. With this technological addition, the CTL facility may be eligible to receive up to $10 per ton of CO2 captured and used in EOR processes.
Carbon Capture and Sequestration
Carbon capture and sequestration (CCS) is a commercially unproven and cost prohibitive technology. A Government Accountability Office (GAO) report says general commercial CCS deployment is and will continue to be barred by technological barriers because of "a lack of experience in capturing significant amounts of CO2 from commercial-scale power plants." The GAO also cites regulatory and liability uncertainties surrounding CO2 leakage that could do damage to the area, such as poisoning water supplies. Another GAO report says DOE "does not systematically assess the maturity of key coal technologies," like CCS. Depending on the type of CCS technology used, water use at a CTL plant could increase as much as 100%. Lastly, as CCS depends on three independent technologies—carbon capture, transport, and storage—plant reliability dramatically decreases as each technology is essential to the overall CCS system and failure of any single technology would dramatically cut capacity to reduce carbon emissions. Overall, the GAO predicts that commercial deployment of CCS is still 10 to 15 years away as the technology has yet to tackle "major challenges," including the enormous cost of installing and operating CCS systems.
In addition to the uncertainty surrounding CCS systems and the substantial cost of CTL technology, concerns over oil prices have plagued companies wishing to enter the CTL industry. If oil prices fall below $60-$70 per barrel, coal-derived synthetic fuels become uncompetitive. The extreme volatility of oil prices over the past few years clearly demonstrates the additional financial risks associated with the development of the Medicine Bow facility. Fluctuating oil prices could hurt already financially struggling CTL projects. Moreover, Standard & Poor's reports that without constant, long-term taxpayer-backed financial support, liquid coal projects "are likely to be untenable."
Taxpayers Cannot Afford to Go Down This Road Again
During the 1980s, the U.S. government authorized spending up to $15 billion in a failed attempt to jumpstart the synthetic fuels industry. With the expectation that oil prices would be at $100 per barrel, a quasi-independent government corporation, the Synthetic Fuels Corporation (SFC), was set up to finance six synthetic fuels including liquid coal facilities. When oil prices fell to $20 per barrel, the government was forced to shut down the SFC which had been riddled with numerous managerial problems as well. After spending $1.5 billion without producing any results, the SFC debacle became known as one of the largest examples of government waste and failures at the Department of Energy.
The Medicine Bow plant has been repeatedly delayed over eight years. Putting the full faith and credit of the U.S. government behind this costly and risky project is fiscally reckless. Coal-to-liquid technologies have failed before and taxpayers should not be asked to shoulder this risk again.
For more information, please contact Autumn Hanna at (202) 546-8500 x112 or autumn[at]taxpayer.net.