It's Valentine's Day, and who doesn't love a little throwback to Robert Palmer and his addiction to love? Too young to remember this iconic music video? Go ahead and watch it, we'll wait…
Yep, that's your earworm for this day dedicated to love.
But on a more serious, and exasperating note, the entire federal government seems to be addicted to Overseas Contingency Operations (OCO) funding. Literally these funds are meant to be spent on overseas programs that are contingencies; in other words, not expected. Close readers of TCS analysis are well acquainted with our disdain for this slush fund of "magic beans" money that, thanks to dodgy accounting practices, doesn't count against the budget caps of the Budget Control Act of 2011.
The vast, vast majority of OCO funding goes to the Pentagon. But, of course, other parts of the federal government also operate overseas. And chief among them is the State Department. So, it's no surprise the folks at State would also want to get a portion of their annual appropriation exempted from the budget caps, allowing them to spend more without it "counting," as in some alternate budget universe. (But it surely adds to our burgeoning deficit, if anyone besides us still cares about that.)
A review of the State Department portion of the Fiscal Year 2019 Omnibus Appropriation conference agreement shows that of $54.2 billion in funding, $8.3 billion is OCO funds. Overall that's not a huge portion, only about 15%, but if you look at the eleven funding lines that receive a boost from OCO, you'll be surprised by some of the numbers.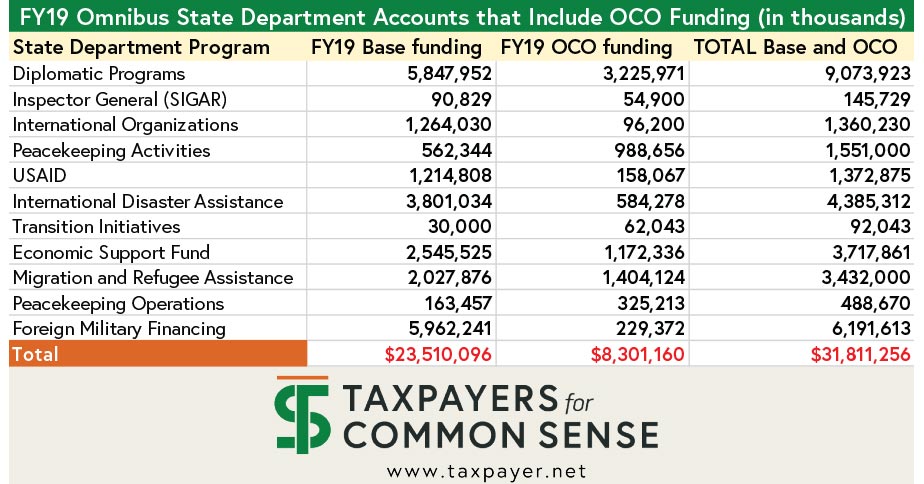 For instance, 35% of "Diplomatic Programs" are funded with OCO money. We'll agree that diplomatic programs are definitely pursued overseas. But, seriously, are more than a third of them contingencies? Is the State Department that bad at planning that such a high percentage of their diplomacy comes as a surprise to them? (Wait, maybe we answered our own question there…)
Other programs with roughly one-third of their funding considered "contingencies" are a) Special Inspector General for Afghanistan Reconstruction (SIGAR), and b) the Economic Support Fund.
Clocking in at 40% of its funding coming from OCO is the Office of Migration and Refugee Assistance.
And a whopping two-thirds or more of these programs are funded as contingencies:
Peacekeeping Activities,
Transition Initiatives, and
Peacekeeping Operations.
As the 116th Congress considers its options for oversight of the President's upcoming Fiscal Year 2020 budget request, we urge them to reconsider this addiction to OCO. It's spreading, and the budgetary consequences are real.