On October 28, 2008, Goldman Sachs received $10 billion of the first $125 billion from the $700 billion bailout bill. Goldman Sachs is a global bank holding company that works in investment banking, securities and investment management. It was founded in 1869 and made its name for its pioneering work in the use of commercial paper for business entrepreneurs. It joined the New York Stock Exchange in 1896. Last September, Goldman Sachs went from being one of the largest and most profitable U.S. securities firm to becoming the fourth largest bank in the United States, which means they are now regulated from the Federal Reserve.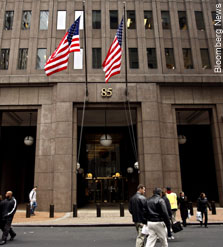 Considered a titan on Wall Street, Goldman has not been immune to the credit crunch and has had to eliminate thousands of jobs. Its main losses stem from reduced underwriting activity, as well as plunging prices for stocks and other investments.
Goldman has also been well known for its high bonuses and pay. In 2007, Goldman's CEO and two co-presidents were each paid more than $67 million. The company has set aside more than $11 billion during the first nine months of 2008 for bonuses throughout the company. It also has a powerful Alumni list that includes Treasury Secretary Henry Paulson, current bailout czar Neel Kashkari, Governor Jon Corzine (D-NJ) and former Treasury Secretary Robert Rubin. But layoffs and continued losses have put pressure on the company that may lead to senior executives taking as much as a 75% cut in bonuses in 2008, with less senior executives taking a 50% cut. Goldman Sachs repaid the $10 billion in bailout funds in full on June 9, 2009.
---
2008 Goldman Sachs 3rd Quarter Earnings
8-29-08 Goldman Sachs Credit Ratings
USAspending.gov (last accessed 03/26/2009)
Center for Responsive Politics  (Last Accessed 11/07/08).
November 17, 2008. Top Goldman Executives To Forgo 2008 Bonuses (Washington Post)
November 17, 2008. Call for probe into ex-Goldman executive (Financial Times)
November 11, 2008. Goldman Sachs urged bets against California bonds it helped sell (Los Angeles Times)
November 6, 2008. Morgan Stanley sees 4Q loss at Goldman Sachs (BusinessWeek)
November 5, 2008. Ex-Goldman Sachs analyst may have fled US (Int. Herald Tribune)
November 4, 2008. Goldman's Backdoor Bailout (Columbia Journalism Review)
November 4, 2008. US financial institutions owe executives over $40 billion (The Economic Times)
October 31, 2008.  So how much is bailout czar Neel Kashkari getting paid? (BloggingStocks)
October 30, 2008.  Cuomo Asks for Pay Data From Banks (NY Times)
October 29, 2008.  Fewer Rise to Partner as Goldman Is Reshaped (NY Times)
October 28, 2008.  Goldman ordered to justify billion-dollar bonus pot (Telegraph – UK)
October 23, 2008.  Goldman to slash 10 percent of jobs amid slump (Int. Herald Tribune)
October 21, 2008.  Goldman Sachs and the city (Politico)
October 17, 2008.  The Guys From 'Government Sachs' (NY Times)
October 15, 2008.  Blankfein's $70 Million Would Survive Paulson's Rules (Bloomberg)
October 14, 2008.  Citigroup, Goldman Rally as U.S. Invests in Banks (Bloomberg)
October 14, 2008.  Neel Kashkari to Oversee $700-Billion Financial Bailout (India West)
September 26, 2008. Congress Has 43,457,362 Reasons to Help Goldman Sachs (ABC News)
July 6, 2007.   FBI Probes Goldman Sachs Threat Letters (ABC News)
November 27, 2005. Please, Sir, I Want Some More (New York Magazine)
May 16, 2005.  Goldman: We Run Wall Street (Fortune Magazine)
February 11, 2002. Cold Call (New York Magazine)
December 22, 1997. Inside the Money Machine (Business Week)
Bailout Bank Bio: Goldman Sachs Group Inc.
 

Federal Equity Investment

Total Revenue

$88 Billion (2007)
$53.6 billion (2008)

Net Income

$11.6 Billion (2007)
$2.3 billion (2008)

Number of Employees

            

   30,067

Corporate Headquarters

New York, New York

Business Sector

Investment Banking, Securities
and Investment Management

Officers and Directors

Lloyd C. Blankfein, CEO
Other Officers and Directors

Corporate Website

Executive Compensation
 Last Updated Marh 26, 2009