In downtown Washington, D.C. last week, top Department of Interior (DOI) officials hosted the first of several "listening sessions" on the federal coal program. Given the opportunity to discuss the deeply flawed system, TCS showed up in force and was first in line (literally) to demand that taxpayers get a fair return for coal mined on federal lands.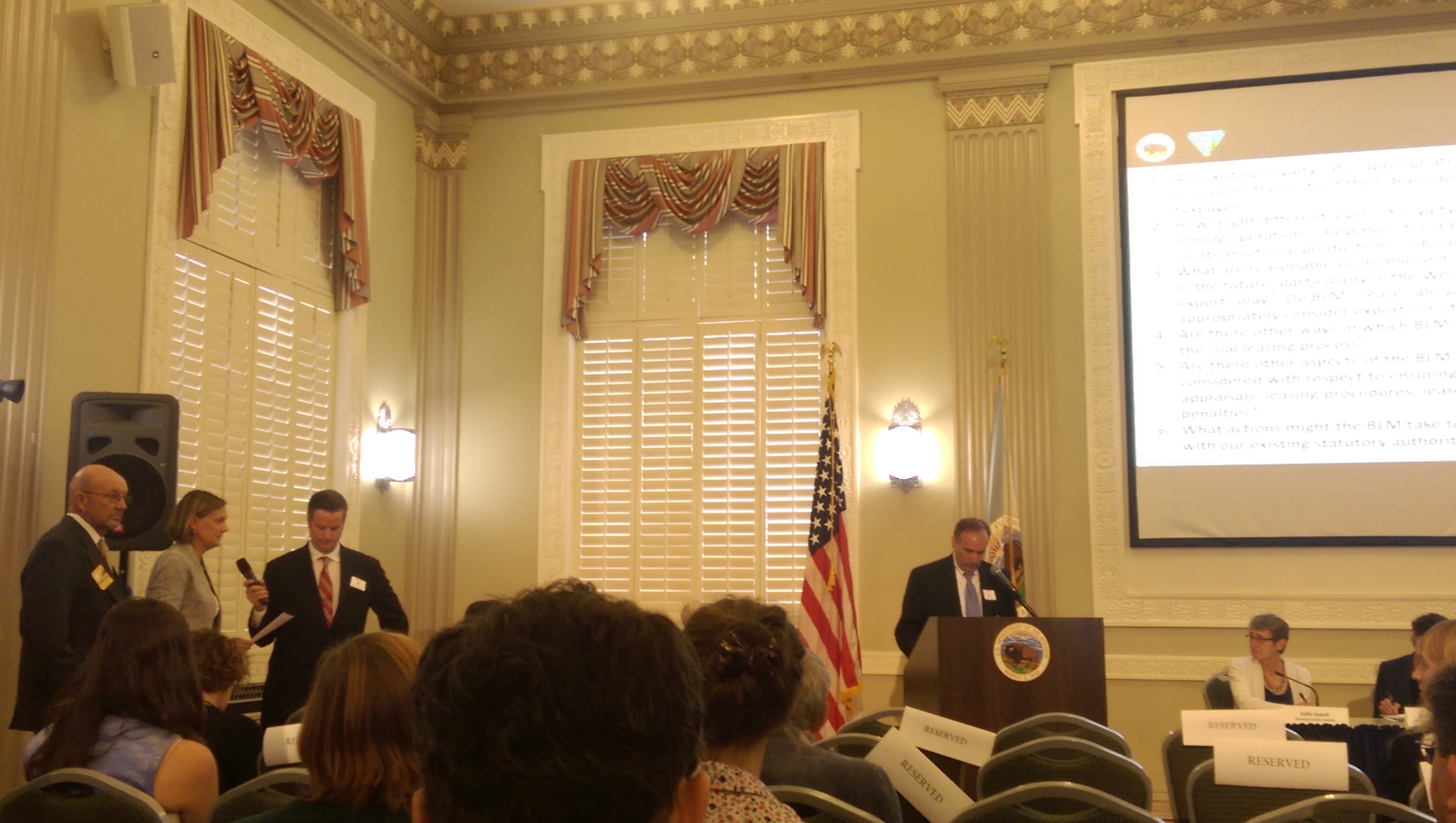 We hope that DOI Secretary Sally Jewell (pictured at right) will take action to more responsibly manage public resources after listening to TCS President Ryan Alexander (pictured at left) and others at the session.
The sessions stem from a call by Sec. Jewell for an "honest and open conversation about modernizing the federal coal program" after she acknowledged some of its failures and the need to reform it in March. The discussion, and any subsequent action, is long overdue. The royalty rates for coal produced on federal haven't increased since they were set by the Mineral Leasing Act of 1920. Static rates and the allowances coal producers are permitted to take have made the effective royalty rates on federal coal among the lowest for BLM-managed resources. The royalty rate, however, is just one of many problems with the federal coal leasing system.
A wide range of interests were present at the session, but a majority of speakers called for the Bureau of Land Management (BLM) to better ensure a fair return on federal coal for taxpayers, including representatives from good government groups, conservation and wildlife organizations, outdoors advocates, law schools and others. A spokesperson from Arch Coal, one of the largest coal producers in the country, insisted that the federal coal program was a "tremendous success story." But recent DOI Inspector General and Government Accountability Office reports have concluded the opposite – that the program suffers from numerous problems allowing companies like Arch to underpay for federal coal.
Interior Department and BLM officials will conduct another four listening sessions through August 20th in: Billings, Montana; Denver, Colorado; Gillette, Wyoming; and Farmington, New Mexico. We urge every taxpayer in those areas to make their voice heard and demand more accountability from the BLM, and above all, a better return on public coal resources. Because right now federal coal is too cheap, and so is merely talking about fixing the federal coal program.
For more resources, visit www.taxpayer.net/coal