On Tuesday, the Bureau of Land Management (BLM) held its first auction of the year for oil and gas leases on federal land in Utah. Even by the low standards set by similar lease sales in recent years, the Tuesday auction produced dismal results. The vast majority of leases sold received the legal minimum bid set in 1987, driving down the average bid rate to just $8.34 per acre. The sale results underscore the need to reform the system for leasing federal land for oil and gas development to improve the return on taxpayer-owned assets.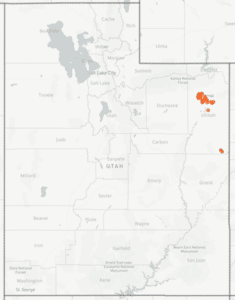 In the online auction, the BLM made 25 parcels covering roughly 32,700 acres available for lease. Of those parcels, all of which are located in Uintah County on the north-eastern side of Utah, private interests bid on 22 spanning 28,500 acres. Seven unique winning bidders suggests reasonable levels of interest, but that didn't translate into much competition. Of the 22 parcels of federal land sold, 18 received just a single bid of $2/acre, the national minimum bid set by Congress in 1987.
At 87 percent, the portion of acres leased at the minimum bid price was abnormally high. In fact, only three of the 32 BLM lease sales held in Utah over the last decade had a higher portion selling for the minimum bid. These 18 minimum-bid parcels, and another selling for $5 per acre, lowered the auction's average bid per ace to $8.34. Only three of the prior 16 sales in the state had lower average bidding.
The low amount of bid revenue is further evidence that the administration's push to offer more federal land for lease is driving down returns to taxpayers. For more on federal oil and gas leasing in Utah, read our comprehensive report released last year.