NOTE: Updated 3/22/2019
The debate about whether and how to pay for a wall on the southern border is heating up. To be fair, this has never exactly been a "cool" debate. But things are about to get much more heated in specific parts of the country and specific Congressional districts.
Stretch your memory back a few weeks when the President declared a national emergency for purposes of raising the money to build a border wall. The emergency was declared after the Congress refused to appropriate what the President considers adequate funds for wall construction. As we have previously written, declaring an emergency may also waive the Antideficiency Act which is the statutory bulwark against the Executive Branch spending money except for the programs set forth by Congress in appropriations legislation.
An emergency declaration invoking 10 U.S.C. 2808, "Construction authority in the event of a declaration of war or national emergency" is central to this argument. And so, it isn't surprising, on the one hand, that the President would direct the Department of Defense to identify military construction projects that could be canceled, and those funds used to support wall construction. On the other hand, this way lies madness because you're about to see a lot of angry Members of Congress as the true meaning of this sinks in.
Why? Well, the Pentagon recently released its list of military construction projects that may be raided. The covering memorandum, entitled, "Fact Sheet on Section 2802 Funding Pool" (look back one paragraph to understand the statutory reference.) The memo covers 20 pages of fine print charts of military construction projects. But a careful reading of the cover memo also shows that not all of the projects on those pages are eligible to be "reallocated." In fact, only projects that have award dates after September 30, 2019 may be at risk of losing funding. And if you screen for that award date, the list shrinks dramatically.
We did the work for you by first selecting only programs with an award date of October 1, 2019 or later and then sorting them by state. Click on the charts to zoom in. You can also click on the spreadsheet (and download) to see the numbers sorted out.

The dollar total for programs in the United States that may be raided is about $2.3 billion. Of that total, a whopping $403 million is construction programs for Puerto Rico, trying to rebuild after being pummeled by Hurricane Maria. The next largest pool of money that could be raided for constructing a border wall is from Guam, at almost $257 million. The state of Washington is third at almost $185 million. New York state could lose $160 million. See our full breakdown above for all the details.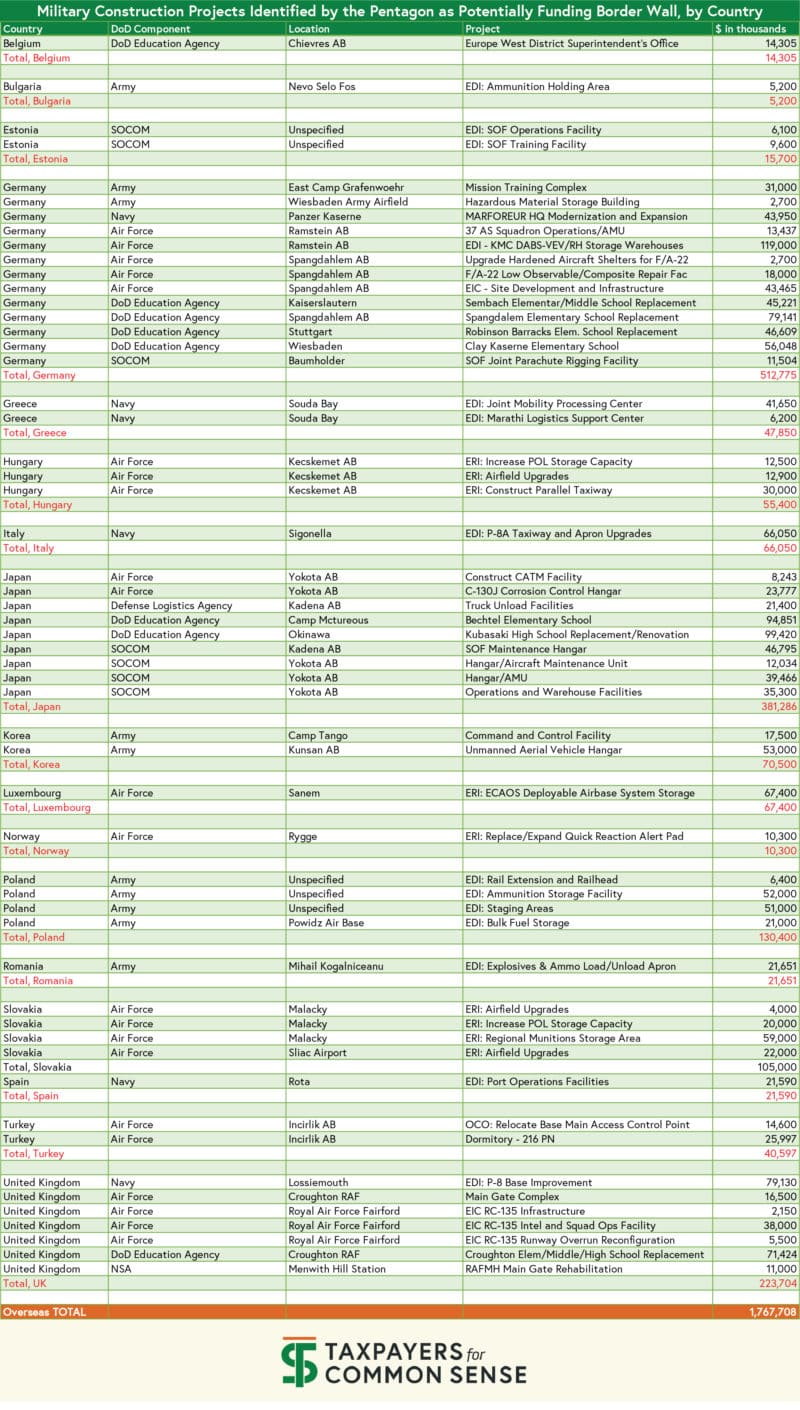 The Administration also proposes taking over $1.7 billion from overseas military construction projects with an award date of later than October 1, 2019. You can see that full list, too.
This analysis shows that three of the military services and the DoD Education Agency all could lose substantial projects in Germany – to the tune of $512 million. Several of the vulnerable projects are schools that educate the children of U.S. military service members in Germany. Japan comes in second with $381 million in vulnerable projects, including two schools. The United Kingdom stands to lose $223 million in projects.
We'd also like to point out that hundreds of millions of dollars in European Deterrence Initiative (EDI) or European Reassurance Initiative (ERI) projects, which we have regularly ridiculed, have not had their contracts awarded and, therefore, may be raided to build a wall on the southern border.
And while you can argue the merits of some of these military construction projects, as we have with EDI, the fact is that the Pentagon has argued that each of these projects is necessary to the Department of Defense mission. To now say, "Wait, forget all that. Let's move this money to the southern border of the United States" is the height of cynicism. Don't fall for it.
Congress must wrest control of the power to appropriate money. Going after military construction projects that can be easily tracked back to specific Congressional districts shows us whose ox is about to be gored. We'll be waiting to see if Congress and the Appropriations Committees takes it lying down.