When you're awash in money, as the Pentagon is these days, you just might have a hard time spending it. So many greenbacks, so little time! No problem, though.  Congress is happy to step in and mandate spending on programs the Pentagon couldn't manage to squeeze into this $654 billion (give or take) request.
Let's think about that. And let us break that down for you in two areas: procurement and research & development.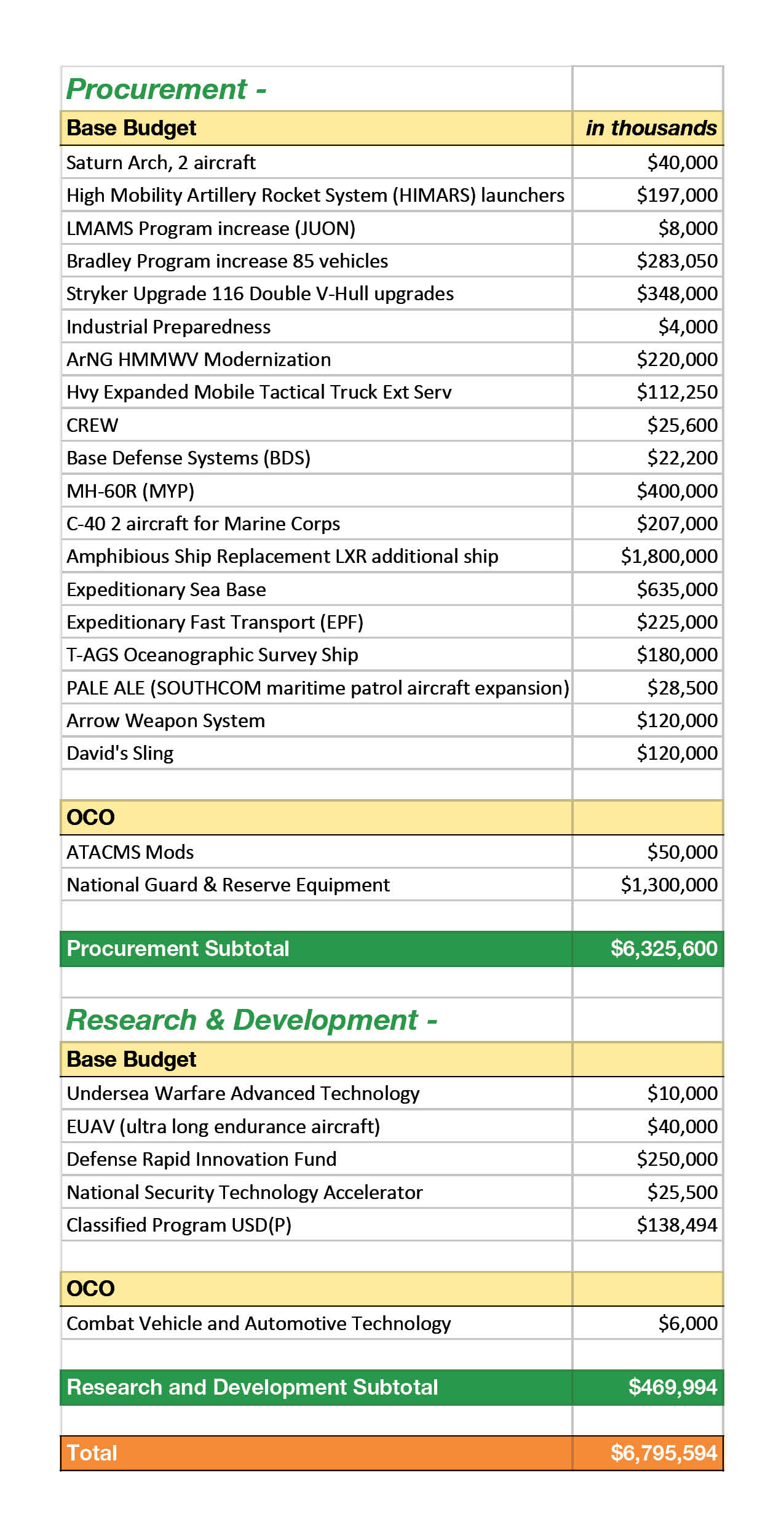 Procurement:
The Trump Administration's original Procurement request for Fiscal Year 2018 was roughly $115 billion. The final agreement for procurement spending in the Omnibus was just under $134 billion. And yet, even with huge numbers like that, the Congress felt the need to add $6.3 billion in procurement programs that were never requested by the Pentagon. So, in a massive request, with virtually every wish fulfilled for the military services, these programs weren't requested. Not a single dime.
With some of these programs, it's pretty easy to see what's going on here. Shipbuilding is a very big deal in a few states: Mississippi and Alabama chief among them. And it just so happens the chairman of the Senate Appropriations Committee (as well as the Defense Subcommittee), Senator Cochran who happens to be from Mississippi, is resigning his seat shortly after the release of this draft omnibus. And Senator Shelby of Alabama is a senior member of the Defense Subcommittee. So it will come as no surprise that shipbuilding is in line for a major increase – in fact $2.8 billion in additional shipbuilding orders are on this list of unrequested items. Of that total, $1.8 billion is for Huntington Ingalls in Mississippi and $225 million is for another ship built by Austal in Mobile, Alabama.
And then there are the cases where Congress tells us exactly what they're up to. For instance, the whopping $400 million increase to the MH-60R, a variant of the Blackhawk helicopter for the Navy and Marine Corps, is justified as, "Program increase – maintain MH-60R production line through fiscal year 2018". Well, at least they're honest about it! In other words, there's no requirement for these aircraft in the current fiscal year, so we're going to pay the prime contractor to keep the production line active. That's mighty nice if you're with Sikorsky in Connecticut, which is also a division of Lockheed Martin.
And, while we're connecting the dots here, the Marine Corps is getting a big plus up for two additional C-40 aircraft that weren't in the budget request. These two aircraft will cost a cool $207 million. The C-40 is the military version of the Boeing 737. Boeing is headquartered in Chicago and so our original thought was that Senator Durbin, the number two Democrat in the Senate and the ranking Democrat on the Defense Subcommittee of the Senate Appropriations Committee, was responsible for this largesse. But then we looked at where the C-40 is manufactured – Everett, Washington. And Senator Patty Murray is the second most senior member of the Defense Subcommittee at Senate Appropriations. So that's a double whammy of powerful Senators asking for that program.
Then there is the slushiest of slush funds – the National Guard and Reserve Equipment fund at an eye-popping $1.3 billion in Overseas Contingency Operations funding. We've written a lot about this program in the past, and we'll just point out that this is an undercover form of earmarking for pet projects in a time when earmarking is supposedly dead.
Research & Development:
The Trump Administration's original Research & Development request for Fiscal Year 2018 was roughly $83 billion. And we'll give a little grudging credit where credit is due: even the United States Congress couldn't find a lot of programs that the Pentagon hadn't already requested. In fact, just under half a billion dollars is added to the omnibus for R&D programs.
The biggest whopper is the Defense Rapid Innovation Fund, another slush fund of unrequested programs looking for money – at a cool $250 million this year.
The other head-scratcher is a classified R&D program run by the Under Secretary of Defense for Policy to the tune of $138 million in this fiscal year. We're a little perplexed about how the Policy shop in the Pentagon is qualified to run a research program but, since it's classified, we'll presumably never know.